H040 Composer
Vielleicht brauchst du mal eben einen fixen beat zum Texten oder eine Rhythmusgrundlage für ne jam session oder du bastelst beats und möchtest selbst unterwegs nich die Finger von dem Kram lassen. Dann könnte die App was für dich sein.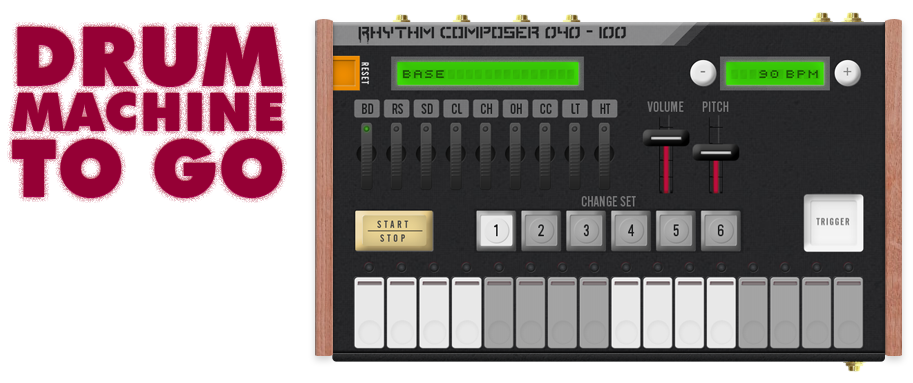 H040 Composer
Auf der Suche nach einem pflegeleichten drum sequencer für unterwegs? Ohne kompliziert verschachtelte Untermenüs und Gewühl im Dateisystem? Der Rhythm Composer H-404 ist ein single screen drum sequencer für den schnellen Drumloop. Die Funktionen orientieren sich grob an denen einer 808 (welche ja leider nicht ganz so transportabel ist).
Wir haben versucht die Interaktion so anwendungsfreundlich wie möglich zu machen und haben uns deshalb auch auf die wesentlichen Funktionen einer drum machine konzentriert:
ein 1/16th loop pattern

9 fine getuned drum samples (für den Anfang)

Seperater Pitch und Lautstärke Regler für jeden Sound

BPM control

6 vollkommen unabhängige Set-Speicher (mit autosave)

Reset für schnelles Löschen des aktiven Sets
The sets
The 6 numbered buttons, are the so called sets. Within a set you can create a drum pattern, manipulate volume and pitch of each sound and set a speed.
Once you change to another set all current settings and adjustments will be saved to the previously active set.
So you can have up to 6 different drumloop configurations in your app. The sets are totally independent from each other and can't be combined etc.
The sounds
The app contains ONE fixed - non replacable Drumset, consisting of 9 well-shaped 808 style Sounds, each abbreviated by 2 Characters (BD = Basedrum, RS = Rimshot ...)
The active sound (indicated by small green led) can be manipulated by volume and pitch. To check the current setup of one sound, select the sound and hit the trigger button on the right.
The sequencer buttons
Each of the sounds has its own 1/16th loop pattern, which is initially empty. To use a sound in the drumloop - choose the sound from the sound menu and select sequencer buttons.
Troubleshooting
I just got the app, pressed play but nothing is happening
Take a deep breath - that's perfectly normal. We decided to not place any premade rythms or demo in this app, since it's for you to create them. We just provide the tool. simply pick a sound from the soundselection menu and start distributing them on the sequence buttons. - Then press start.
Is the rythm sometimes a little bit off, or is it just me?
Probably, it's the app. The capabilities of the Android Sound library are quite limited - not to forget about some hardware issues. And even small latencies in sound can be already very disturbing. Maybe it could be better, if we would have written our own Android Sound Library in some low level language, but hey - we are just two guys who wanted to have sth like this ourselves and so we made it - and you can have it for free and even without stupid advertisment on top of it. So, if you're not happy with it, just quietly deinstall the app - no need to give us a zero star rating for our effort.
I have a feature request
We probably not gonna make it - since we have some features in our head already, but not time to actually build that stuff - but we always like to hear, what other people would appreciate - so just drop us a comment or a message, if you like.